Former Scotland manager Jock Stein once said, "Football without fans is nothing." There has never been a truer statement. A great stadium atmosphere allows for memorable experiences. However, a poor one only allows for boredom (and, potentially regret.)
With so many football clubs in Europe, determining which offer the best stadium experiences can be difficult. As such, we scoured the internet to find all the clubs with atmospheres so exciting, you will need to see it to believe it. So, start planning your football trip!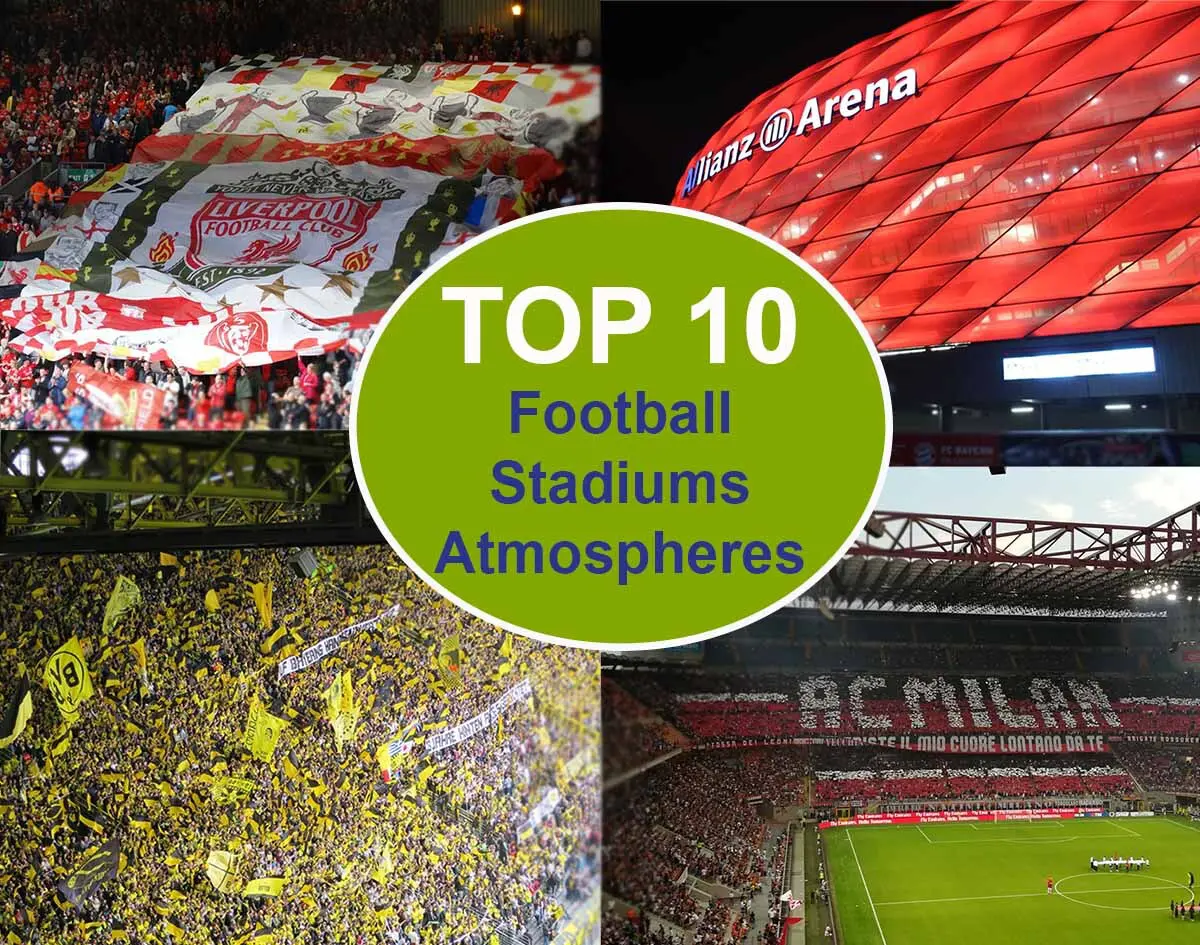 Which Football Clubs have the Best Stadium Atmosphere?
Borussia Dortmund
SSC Napoli
Liverpool FC
Feyenoord Rotterdam
AC Milan/Inter Milan
Manchester United
Glasgow Celtic
Real Madrid
Bayern Munich
FC Barcelona
10. FC Barcelona – Camp Nou
Matchdays at Camp Nou are always a special affair. The stadium itself is magical (and also the largest in Europe). Add thousands of roaring fans and a highly-successful football team and you get an experience most will never forget.
A few years ago, FC Barcelona's management took extra steps to accentuate the arena's atmosphere. The result was a singing section in the stands that produces a cauldron of noise whenever a star player gets the ball.
If you are intent on visiting the Camp Nou and you're looking for match recommendations, one immediately comes to mind – the El Classico (Barcelona versus Real Madrid). Other potentially great matches for atmosphere include Champions League games against Bayern Munich, Juventus, or Paris Saint Germain.
Looking for a football trip?
9. Bayern Munich – Allianz Arena
You just need to look at the Allianz Arena from the outside on Bayern Munich matchdays to get a feeling of what the atmosphere must be like inside. The customisable light-display on the exterior of the stadium emanates a sense of excitement itself.
Within the stadium, you can expect scores of fans cheering on their team. As with many other German stadiums, the height of the volume is unmatched. During Champions League games, visiting teams are often hit by surprise by how loud a crowd of 80,000 people can be.
Matches you need to experience in the Allianz Arena include Der Klassiker (Bayern Munich vs. Borussia Dortmund) and the Munich derby (against TSV 1860 Munich.)
Looking for a football trip?
8. Real Madrid – Santiago Bernabau
Real Madrid fans are known to create awe-inspiring atmospheres on matchdays, especially on Champions League nights. Flares, tifos, and chanting fans are not only the norm in the build-up to kickoff, but are also largely present throughout the game.
Loads of Real Madrid players throughout the years have commented about how the fans and stadium atmosphere have pushed them to play better.
If the roar of the fans is not enough for you, Real Madrid also recently completed renovating the Santiago Bernabau. This means you can expect your experience to be complemented with modern facilities that are pleasant.
Looking for a football trip?
7. Glasgow Celtic – Celtic Park
Several polls regarding football clubs with the best atmosphere have featured Glasgow Celtic high up on the list. Although Celtic is not the most noteworthy European team, their fans make watching every match a memorable experience.
Several players from the globe's top teams have commented on how electrifying the atmosphere is when visiting Parkhead. The list includes the likes of Gianluigi Buffon, Lionel Messi, Cristiano Ronaldo, Zlatan Ibrahimovic, Gerard Pique, and Steven Gerrard.
If you are intent on visiting Celtic Park (or Parkhead as it is affectionately known), we recommend going Champions League games.
Looking for a football trip?
6. Manchester United – Old Trafford
Old Trafford is the home of the most successful English football team, Manchester United. As is often the case with successful fans, home games are almost always sold out. It is difficult to find an empty seat in the venue.
It doesn't matter whether it is a charity or league game, you can expect to find 70,000 odd fans in the stands.
Nights you can expect the stadium to get loud include the Manchester derby and any game against historical rival Liverpool. Similarly, you should look out for games featuring huge European opposition, such as Bayern Munich or FC Barcelona.
Looking for a football trip?
5. AC Milan/Inter Milan – San Siro
The San Siro is home to two of the biggest football clubs in Italy: AC Milan and Inter Milan. Matches featuring either of the two teams are treated as huge events with fans waving flags, lighting flares, and singing songs.
To truly experience the exciting atmosphere of the San Siro and all of its glory, you need to attend a Milan derby. As all fans are home fans, you can expect it to be a rowdy affair with lots of emotion. Outside of the derby, any Champions League match featuring a traditional rival, such as Liverpool or Barcelona is also worth a trip.
If you have to pick between either AC Milan or Inter Milan, we suggest going with AC Milan. Their fans seem to be slightly more enthusiastic.
Looking for a football trip?
4. Feyenoord Rotterdam –  Feyenoord Stadium
Feyenoord Rotterdam offers a strong stadium atmosphere filled with traditional football and a thrilling crowd. The loyalty of the club's strongest supporters (affectionately known as "Het Legioen") is something to behold.
On any given matchday, about 50,000 fans occupy the stands belting out the club's signature anthem "Hand in Hand." Affectionately known as De Kuip, a visit to Feyenoord's never fails to impress true football fans.
Matches to pay special attention to include any match involving Ajax (known as De Klassieker). European fixtures are also known to bring out inspiring performances from the club's most loyal fans.
Looking for a football trip?
3. Liverpool FC – Anfield
In 2021, Liverpool FC was voted as the Premier League team with the best stadium atmosphere. Now, if that doesn't prompt you to expect an electrifying matchday experience, we don't know what will.  During matches, the team's signature anthem "You'll Never Walk Alone" can be heard bouncing off the stands.
Although Liverpool fans create an intense environment for visiting teams, they are also well-known for respecting visiting players. For example, former Real Madrid and FC Porto goalkeeper, Iker Casillas received two standing ovations after maintaining clean sheets against Liverpool.
Although Anfield is not the biggest stadium, the people who fill the stands weekly often make it feel like the largest arena in the world.
Looking for a football trip?
2. SSC Napoli – Diego Armando Maradona Stadium
SSC Napoli isn't the most successful club in Italy, but it has a unique history and a massive fanbase. Although it has been over 30 years since the team last won a Serie A title, you wouldn't think it with the way supporters show their love for the club.
At some football stadiums, you can expect a roaring crowd on specific matchdays. However, with Napoli, you can expect every single matchday to be packed with fans. Thus, if you want to want to know what raw, emotional energy looks like, you need to experience Napoli's stadium atmosphere.
Matches sure to bring inspiring turnouts include games against Juventus, Roma (Derby del Sud), and Palermo (Derby delle Sud Due Sicilie.)
Looking for a football trip?
1.      Borussia Dortmund – Signal Iduna Park/Westfalenstadion
Borussia Dortmund has often been voted the club with the best stadium atmosphere in Europe. Is it surprising when the team regularly posts some of the highest-average attendance figures on the continent?
The Westfalenstadion is the seventh-largest stadium in Europe holding a total of 81 365 fans. On matchdays, stands are filled with supporters in black and yellow attire screaming for their team, making for an intimidating environment for visiting squads.
If you would like to see passion at its finest, visit Signal Iduna Park. As with Bayern Munich, we recommend visiting on days featuring Der Klassiker or Champions League matches with strong opposition. We strongly recommend you pack your earmuffs, though.
Looking for a football trip?